1-Arm DB Row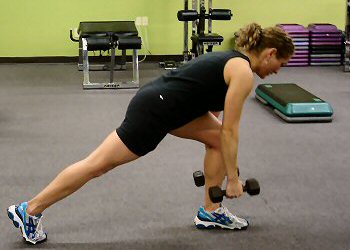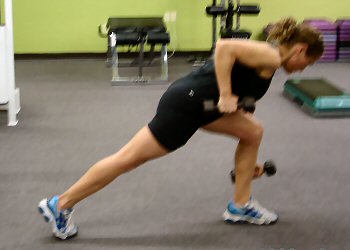 Benefits :

Integrated total body training with an emphasis on back and core for strength and improved function in the pulling motion.
Great exercise to teach the co-contraction of the core/hip/posterior shoulder girdle musculature to pull, while maintaining balance and stability.
Preparation :
Stand with feet in a staggered stance.
Grasp the dumbbell with a neutral grip (palm facing body).
Bend the knee slightly and bend forward at the hip joint between 60 to 90 degrees to the floor.
Keep a neutral spine alignment.
Brace the spine by drawing the lower abdomen in and drawing the belly button in toward the spine.
Movement :
Adduct the shoulder blades toward the spine and pull the elbow straight back drawing the dumbbell into the abdominal area.
Slowly lower the dumbbell to the starting position.
Keep the wrist straight throughout the movement.
Maintain alignment and stability while lowering the dumbbell.
Repeat the movement for the desired amount of repetitions.
RIPT = Results-based Integrated Physique Training
Sarah E. Rippel, BS, CPT
(225) 326-2317