SB Knee Tuck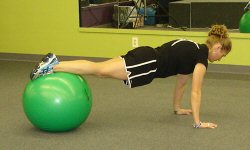 Benefits :

Great exercise to teach co-contraction of the core / hip / shoulder girdle musculature, to stabilize while working the rectus abdominus.
Integrated movement for "functional" and "practical" abdominal strength.
Preparation :
Lie prone on the ground, hands are slightly wider than shoulder width and spine angles are 'neutral'.
Place shins on the stability ball.
Activate core with a drawing in and pelvic floor contraction.
Movement :

With your arms extended, perform a stability ball roll – in crunch by bring your knees to your chest.
Bring your legs back into triple extension (at hip, knee, and ankle).
AVOID letting your back sag by keeping the core engaged and activating the glutes and lats.
RIPT = Results-based Integrated Physique Training
Sarah E. Rippel, BS, CPT
(225) 326-2317