SB Crunch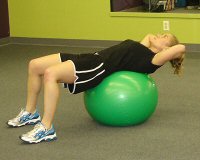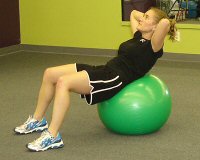 Preparation :

Slowly roll down the ball while comfortably placing your head and neck on the ball with both feet STRAIGHT AHEAD.
Place hands on the side of head. Do not hold and carry the head!
Movement :
Draw your lower abdomen inward toward your spine before initiating the movement.
While maintaining the draw-in maneuver, curl the entire spine up starting from the cervical region.
While still maintaining the draw-in maneuver, lower slowly as far as you can control.
Repeat recommended repetitions.
The chin should be tucked toward the chest throughout the movement.
Experiment with different arm positions to vary the level of difficulty.
Variation:
Incorporate a rotation with each crunch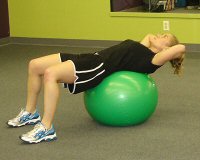 RIPT = Results-based Integrated Physique Training
Sarah E. Rippel, BS, CPT
(225) 326-2317