SB Lateral Roll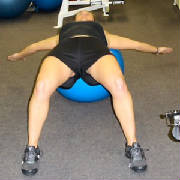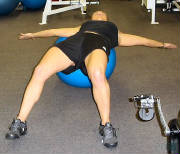 Benefits :

A must exercise to progress to for good lateral neuromuscular control through the kinetic chain and increased awareness of lumbo pelvic hip integrative function.
A great exercise for developing core strength and core control.
Preparation :
ENSURE that the client is used to the stability ball.
Maintain good posture throughout the exercise with shoulder blades retracted and depressed, good stability through the abdominal complex, and neutral spine angles.
Activate core with proper drawing in and pelvic floor contraction.
Movement :
Sit on the ball.
Slowly roll down the ball while comfortably placing your shoulder blades, head, and neck on the ball with both feet straight ahead.
Lift your hips up until they are in line with your knees and shoulders.
Position the arms out to the side, externally rotated (as shown in the video) and hold.
Shift your weight so that the stability ball rolls laterally.
ONLY roll to the point where control is maintained, roll back slowly.
Keep hips and shoulders are level throughout the entire movement, and ensure that proper spinal position is maintained throughout exercise.
RIPT = Results-based Integrated Physique Training
Sarah E. Rippel, BS, CPT
(225) 326-2317